So here is my followup post to my first foray into documenting new, fun and exciting products and technologies that improve your ability to "BioHack" your life or the lives of your family, friends and co-workers.
"BioHacking" is"the emerging set of practices that average people are adopting that help manage one's own biology using a combination of medical, nutritional and electronic techniques".
So today's cool new BioHacking technology is the SunFriend® Daily Sun/UV Tracker. An innovative product dubbed "the worlds first wearable monitor for healther, safer sun time".
This wearable biofeedback tech was created specifically "to help people optimize their vitamin D and reduce the incidence of skin cancer simultaneously."
This is such an ingenious product, and extremely useful for the upcoming long  hot days of summer. I really like the name too, because I feel like the sun is also my friend.
If you asked anyone who knows me, they'll tell you that I love the sun, and look forward to summer's longer and warmer days all year round. Now, I'm all for making sure my family and I get a daily dose of  healthy sunshine  but  at the same time I need to keep everyone safe from the negative effects from sunburn and too much UV radiation.
Since 80% of a person's lifetime sun exposure is acquired before age 18, and cases of skin cancer has gone up more quickly than any other major cancer. Today melanoma is four times higher than when I was born in the 1970's, so I'm mindful as  a parent that I have to be a good role model and foster skin cancer prevention and healthy sun exposure habits in my son.
On a side note, did you know that sunlight can help your body heal and stay healthy?
Firstly, we all know that sunshine makes us feel better. Mainly because it allows us to enjoy the outdoors more and boosts levels of serotonin – the body's natural happy hormone. That's why we tend to feel happier and more energetic when the sun shines. Regular sun can stave off moderate depression, particularly if combined with exercise, such as a walk in the park. It's also been shown that exercising outdoors creates more endorphins in the body than exercising indoors.
Sunlight has also been found to be beneficial for osteoporosis, heart disease, cancers of the breast, prostate, and colon, as well as other hidden benefits—like protecting against other mental health issues like bipolar disease, insomnia, seasonal affective disorder, sleep disorders and an overactive immune system.
But we all face the problem of figuring out just how much sunlight our bodies need before we start causing serious damage to our bodies. Too little and there's no benefit, and too much can cause minor problems like sunburn and more serious one's like skin cancer (Melanoma).
So how much sunlight is enough?
This is a very complicated question. There are so many different opinions about how much is enough. Some doctors tell patients that roughly 20 minutes of sunlight per day is sufficient. However, that doesn't take into consideration how sunlight is effected by season, latitude, time of day, cloudiness, smog, as well as weather Ultraviolet (UV) radiation is diffused or directed.
There's another problem too. Each person absorbs sunlight differently depending on their skin pigmentation, health condition, diet, activity type, medications, regularity of sun exposure, and amount of skin being exposed to the sun.
Based on all these variables, how do you find out your optimum level of sunlight?
We are all different in relation to how much of our skin absorbs sunlight and also how much our bodies synthesis it to Vitamin D. The darker the skin, the more it's protected against skin cancer but the less able it is to absorb Ultraviolet (UV) rays.
In general terms, if you're more fair skinned, experts say going outside for 10 minutes in the midday sun—in shorts and a tank top with no sunscreen—will give you enough radiation to produce about 10,000 international units (IU's) of Vitamin D.
This actually is a bit confusing because Health Canada has set the Recommended Dietary Allowance (RDA) for Canadians at a minimum of 600 IU's and maximum of 3000-4000 IU's for most children and adults. The U.S. Institute of Medicine (IOM) report they rely on for setting those figures states that there are no additional health benefits beyond the maximum limit.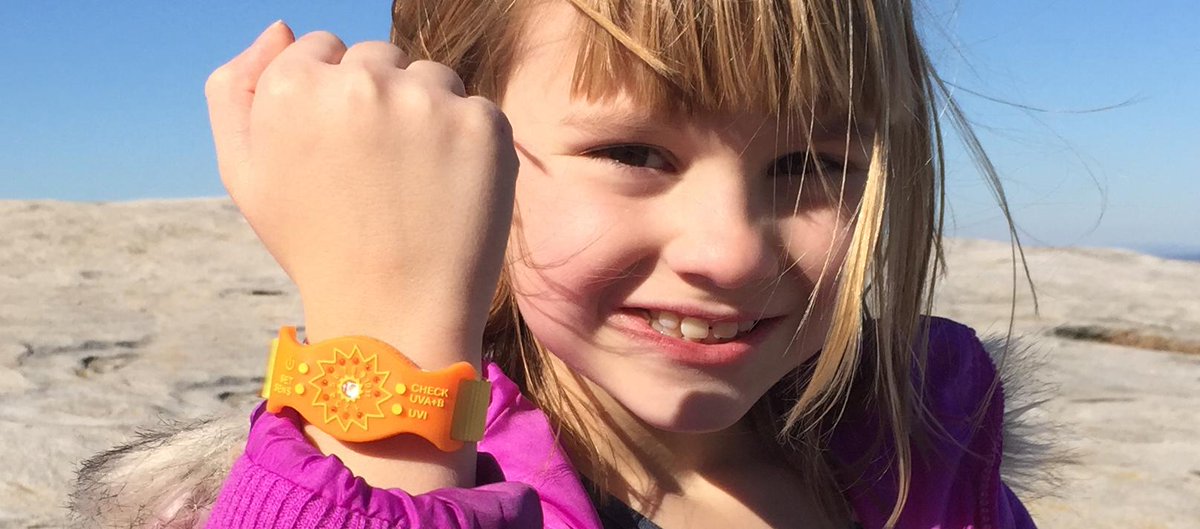 But can't I just take a Vitamin D supplement and get the same benefits of sunlight?
Unfortunately, it appears that there is a slight difference to your body based on the source of the Vitamin D. When we're exposed to Ultraviolet (UV) rays, our bodies make Vitamin D3 Sulfate. This is a water-soluble form of Vitamin D. The Vitamin D supplement you can purchase is un-sulfated and not water-soluble. To work it relies on low-density lipoproteins (LDL) to carry it to receptors in the body, whereas sulfated Vitamin D needs no carrier. Because of this, it's hypothesized that Vitamin D supplements may not provide the same benefits because of its lack of mobility and perhaps availability in the body. This fact still doesn't stop me taking a recommended daily dose of Vitamin D throughout the year, and I stick to the general rule of 25mcg (1000 IU's) for every 25lbs of body weight.
What if I just stand at a window and get my sunlight exposure that way?
Unfortunately glass will block the Ultraviolet B (UV-B) rays and you will only get the more harmful Ultraviolet A (UV-A). For those who drive a lot, note that car windshields are treated to prevent both UV-A and UV-B from entering but side and rear windows do allow UV-A in. So drivers should primarily watch out for skin cancers and photo-aging on the left side of the body, and passengers should take appropriate precautions too. Additionally, it's important to note that you can't expect to expose just a little of your face and arms and still raise your Vitamin D level substantially either. That isn't enough skin surface to have an effect. In fact, the skin on the face is more delicate so it still makes sense to protect this area even more when out in the sun.
So how was the SunFriend® Daily Sun/UV Tracker developed?

The SunFriend® is inspired by NASA technology that's able to read the UV Index and know how intense the sunlight is. The original idea was started by a couple of inventors way back in 2011, and after three years of hard work and some crowdfunding they've developed an extremely simple yet effective product.
What are the SunFriend® Daily Sun/UV Tracker main key features?
First off, it comes in a variety of five fun colors to choose from. They are Orange Citrus, Grey Mist, Blue Ocean, Green Spring, and Black/Grey.
It's customizable – allowing you to choose from 11 different sensitivity levels that best fits your skins response to sunlight
It constantly monitors your UV or sun exposure
It's definitely a super easy and super fun tool for teaching children how to prevent sunburn while enjoying the sunshine.
It's designed not to overheat
Scientifically based to adhere to internationally accepted safety standards for sunlight exposure (UV) ratings
It's waterproof up  to 3 meters, use it on the beach or in the pool
It's made of durable, soft, comfortable silicone design
It can read UV exposure even through clouds and from reflective surfaces
The band is designed to stay securely attached while participating in all activities
It even adapts to your environment and also measures UV rays reflected from water and even snow
The system keeps track of your sun exposure, and it has a nifty button for quickly checking to see how your sun exposure is accumulating harmful Ultraviolet rays from you environment. Once all 11 of the LEDs light up and are flashing, you have reached your maximum UV/Sun exposure for the day, and it's time to cover up, go inside, or wear a premium sun block
The contact points are all silicone or plastic, so no problems for those with a nickel allergy.
After you figure out how it works, over time the real-time data can help you decide what sunscreen to wear after you have reached your healthier sun exposure.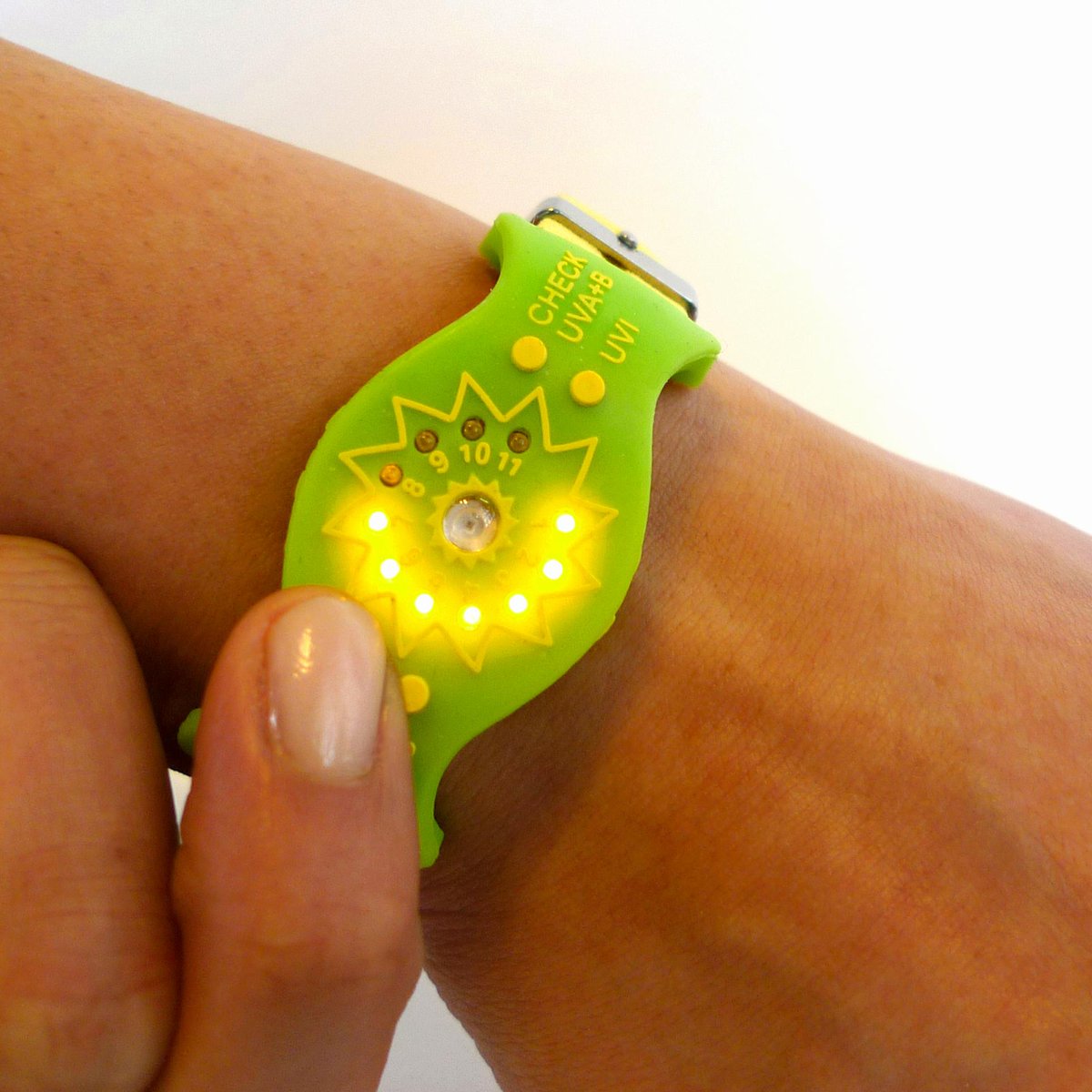 What's different from other sunlight tracking bands available on the market?
The big difference between the SunFriend® and others like is that it's not focused solely on warning you on when to apply sunscreen. It's actually more sophisticated, as it's designed to allow you time to experience a moderate amount of beneficial UV-A (and UV-B) rays without applying sunscreen. People who use it can not only customize it to their skin and environment, but then enjoy some safe sun exposure  prior to receiving a warning. This not only makes outdoor activities and suntanning safe, but also educates people on their ideal tolerance to sunlight, their optimal time to apply sunscreen, and recommended SPF rating for managing their sun exposure.
Want a more advanced version of the SunFriend®?
While SunFriend® is still very new to the market, the company is already working on increasing its functionality, such as implementing Bluetooth technology so that information can be communicated to users' smartphones for record-keeping and statistics. I'm definitely looking forward to seeing what they develop.
What can I do to prevent skin cancer?
Unfortunately, nothing can completely undo sun damage, although the skin can somewhat repair itself, especially with on-going sun protection. So, it's never too late to begin protecting yourself.Your skin does slowly change as you age,. For instance, you sweat less and your skin can take longer to heal. But you can delay these changes by using a device like the SunFriend® to monitor and limit harmful exposure.
What are some quick tips to help prevent skin cancer?
Avoid direct sun exposure as much as possible during peak UV radiation hours (between 10am and 2pm).
Purchase the SunFriend® or device like it to monitor your actual exposure to UV sunlight.
Apply sunscreen with a sun protection factor (SPF) of 30 or greater (for UVB protection) and zinc oxide (for UVA protection) 20 minutes before sun exposure and every 2 hours thereafter, more if you are sweating or swimming.
Select clothing, cosmetic products, and contact lenses that offer UV protection.
Wear sunglasses with total UV protection and a wide-brimmed hat to shade your face and neck.
Examine your skin on a monthly basis to become familiar with existing growths and to notice any changes or new growths.
80% of a person's lifetime sun exposure is acquired before age 18. As a parent, be a good role model and foster skin cancer prevention habits in your child.
And finally, how much does the SunFriend® cost, and where can I buy it?
You can purchase it directly online from SunFriend.com for USD $39.99,  or you can check out a list of US based retailers that carry it here. If you don't want to buy online from the US, then Amazon.ca has it for CAD $62.32, but they only offer  the Citrus Orange version.